The lack of time for the last months...Excuse us for delay
Here's the brief review from our mail box for that period of time :
Planet Of Zeus (Greece) - 2011 - Macho Libre
Great Stoner Rock from Greece with the strong southern rock touch. For real Macho Men )))
I'm diggin' them from the 1st album. Zeus gets to the higher level of awesomeness!
Buy CD
here
http://www.facebook.com/planetofzeus
(Watch the Teaser for "Vanity Suit" video there)
http://www.myspace.com/planetofzeusgr
Dl 320 kbperfuckin'second\bio\cool artwork
Nero Order - 2010 - The Tower
San Francisco avant-metal alchemists Nero Order fuse elephantine rhythms with expansive, tragic melodies and moody, severe vocals - effectively concocting a sound that is simultaneously abrasive and consonant, dynamic and cacophonous; academic in scope and violent in delivery.
The Tower are stylistically without par in the current rock landscape - though the gravity of mid-late period Neurosis, the frenetic energy of Junkyard-era Birthday Party, the minor melodic sense of Metallica's Master of Puppets, the staggering volume and intensity of early Swans, the grandiosity of Pink Floyd's Meddle, and the riff-obsession of Black Sabbath are all summoned therein.
(from Bandcamp page)
http://neroorder.bandcamp.com/
(Free download)
Bio
http://www.neroorder.com/
The band currently has two members and we hail from Porto, Portugal. We recorded and edited everything in our home computers.
http://portent.bandcamp.com/album/demo
(Free download)
A Very Old Ghost Behind The Farm
Really good shit from France!
The first album of A Very Old Ghost Behind The Farm (taxidermic doomed sludge), the so-called "Primary Septagon" is available for free right here :
http://behindthefarm.bandcamp.com/album/primary-septagon
By the way to commemorate the previous line-up and celebrate the newcomers Ignace (drums) and Victor (bass), the band releases a new track :
stuffed with straw
Evil never dies !
Portugese stoner/ post metal duo Lesbian Rainbows has recently filmed a jam trip.
The Holy River is the name of a 4 track jam trip performed and recorded in an old abandoned house lost in the middle of the forest, riverside. The first two videos are now available and the other ones will be unleashed very soon. The name of the session is an invocation of the purity and mysticism of this place along with a revisitation (both aesthetic and conceptual) to Alejandro Jodorowsky's filmography (The Holy Mountain).
Andre (Drummer) is also the musician behind the Valse Sinistre Records' (
aura
).
Sunday Driver On Tour (Poland) - 2010 - Tales From Beyond
We are a Polish band from Bielsko-Biała. The band was formed in 2008. Sunday Driver On Tour music is a mix of hard rock, metal, stoner & southern rock influences. In 2010 we released our
first EP called "Tales From Beyond".
fuckin' awesome tunes. It seems that Poland got it's own 60 Wat Shaman, ATP and reincarnated Scissorfight at the same time! I need more!
we are a hungarian four-piece playing some plain rock/doom/whatever.
we just recorded our first demo in the rehearsing room.
Great Southern Tunes. Blasts like High Voltage!
Band is currently looking for the label. If you wanna release 'em - be quick!
http://www.myspace.com/twincbr
Demo - 2011 - dl
Subsilence (UK) - 2011 - Granite Planet
Doom from the UK

http://subsilence.bandcamp.com/album/granite-planet

CABROCORDERO - 2010 - NAMASTIE QOH

CABROCORDERO, sludge duo from Bs.As Argentina.

Previously had posted our first ep OFRENDA INICIAL in your blogs, and now we leave our first lp, NAMASTIE QOH, to be heard and if they like to do the same with our previous ep.

here some concepts as an introduction:
Recorded at the Abasto, with the production of Topo Armetta (Dragonauta, 8Hands for Kali, Los Natas)
and released under the independent label the band of The Ancient Records,
the 9 tracks goes through to ultra speed a blend of alternative and classics metals translated from a bass & drums,
with spiritual, transcendental and realistic lyrics.
dl
Judd Madden
(Melbourne, Australia) - 2 albums for 2011
Drown
http://juddmadden.bandcamp.com/album/drown
Riffy, catchy, crushing instrumental stoner doom.
Float
http://juddmadden.bandcamp.com/album/float
Melodic, groovy, peaceful instrumental alternative music.
Interview about Both albums
www.facebook.com/judd.madden.music
Buy Posters:
www.redbubble.com/people/juddly/art/7445656-float
Queen Elephantine - 2011 - Garland of Skulls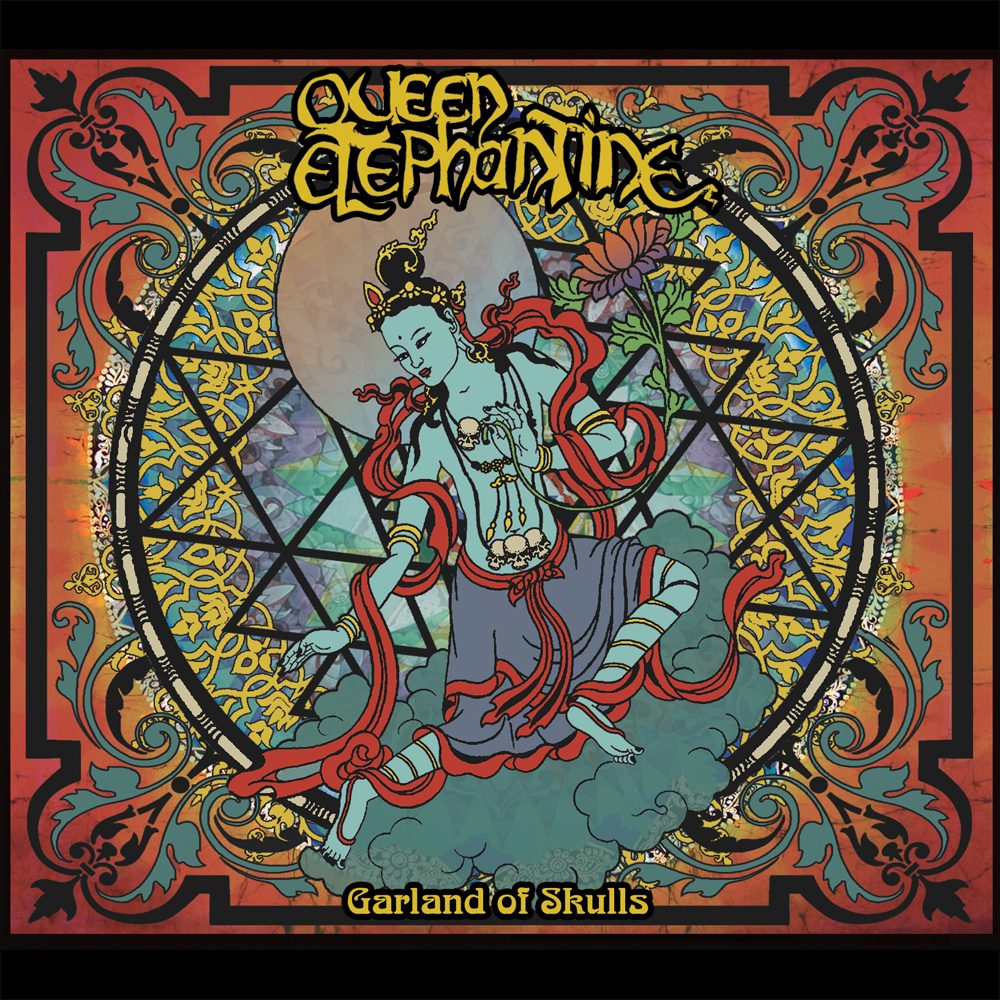 Queen Elephantine, modal psychedelic doom, presents their third album: a long song in three parts, Garland of Skulls—kapālamālā. They have also released several EPs, including splits with Sons of Otis and Elder. Formed in Hong Kong in 2006 and migrated to USA, the band is currently based between NYC and RI. Looking for release, live, and press opportunities.
Also we're looking for a new drummer. So if you're in the NYC or RI area and interested, message or email us. Be serious and reliable
Listen/Download/Order CD:
http://queenelephantine.bandcamp.com/album/garland-of-skulls
More information:
http://queenelephantine.clfrecords.com/garland.html
http://facebook.com/queenelephantine
The Cosmic Dead are a Psych / Drone / Kosmische / Space / Krautrock collective from Glasgow, Scotland. They formed in early 2010.
Its an 80 minute / 4 track affair :
More details on it can be found here:
http://www.myspace.com/thecosmicdea/blog/542816590
Its out now on cassette tape on a German label called Who Can You Trust Records,
(Who have recently put out releases by White Hills, Gnod, Sylvester Anfang II, among many more)
and is also available to download directly from our bandcamp page.
We are also currently in talks with an Italian label about a possible future vinyl / CD release.
Myspace:
www.myspace.com/thecosmicdead
Facebook:
www.facebook.com/thecosmicdead
Bandcamp:
http://thecosmicdead.bandcamp.com
Soundcloud:
http://soundcloud.com/the-cosmic-dead
stream on youtube
'Infinite Death of The Godhead'
dl 2nd track "Spice Melange Spectrum"
Psychollywood (Pol) - 2011 - Psychollywood
BLS/QOTSA/Foo Fighters worship from our Western Neighbours.
www.psychollywood.blogspot.com
Kosmonaut - 2011 - Voyage of Time
Ok. At least this one released on tape & has space in it's name...and nice artwork
)

When I was waiting till post this album, two more releases are already out.


I've recently self-released a cassette entitled "The Dilation of Mother Cosmos" under the moniker Kosmonaut; this material is very heavily influenced by German Berlin School electronic pioneers Klaus Schulze, Richard Pinhas, and Cluster.
http://kosmonauten.bandcamp.com/album/the-dilation-of-mother-cosmos
The Bliss (Greece) - 2011 - GABBATHA
Interesting Progressive music and Video.
"We are "THE BLISS".A music trio from Piraeus Greece.We were formed in 2000 and we create music together ever since.About one year after we got together,we recorded our first demo,"BODYCODE" (2001)and after one more year our second demo recording,"ASSEMBLE"(2003).Our past influences stemmed from the early scene of Seattle,back in the 90's.Through the years,our inspiration started to become more complicated and our influences derived from various sounds and patterns that you find in greek traditional and other kinds of progressive rock bands.During that time we participated in two compilation cd's (IN THE JUNKYARD vol 2.,IN THE JUNKYARD vol 3.)released by Spinalonga records which is a non profit label organized by the bands,in Athens.All these years we've been performing all around our country,in small and big festivals,and sharing the stage with small and even bigger bands such as NIGHTSTALKER,EARTHBOUND,ECHO TATTOO,PLANET OF ZEUS,LUCKY FUNERAL,DEUS EX MACHINA and many more.Also we were the openning act for FAITH NO MORE reunion in Athens,in 2009.Meanwhile,we were experimenting and recording new material for our debut album "GABBATHA".In the mean time we are really interested in finding ways to promote our music by touring around the world and also seeking for an interesting deal with a record label."
http://www.myspace.com/thebliss2006
http://www.facebook.com/pages/Thebliss
Iron Witch (UK) - 2011 - Single Malt
These bastards are from Liverpool. they love Eyehategod and whiskey bottles instead of crosses. Single malt is preferred. Rawwww. Really good piece of filth.
http://ironwitch.bandcamp.com/
(Free dl & nice tees)
Download from Mediafire -
http://www.mediafire.com/?6j6trep6w01ryz6
Buy the CD -
http://witchhunterrecords.bigcartel.com/
Witch Hunter Records -
www.witchhunterrecords.com
Iron Witch -
http://www.facebook.com/pages/Iron-Witch/133715366688303
Formed in 2009, MonstrO is guitarist Juan Montoya

[ex-Torche]

, bassist Kyle Sanders

[ex-Bloodsimple]

, drummer Bevan Davies

[ex-Bloodsimple, Danzig]

, and vocalist and guitarist Charlie Suarez. So far we've released 2 tracks, "Anchors Up!" and "Stallone," on Soundcloud. "Anchors Up!" is now up as a free download on Soundcloud, and both are available to embed:
http://soundcloud.com/vagrantrecords/sets/monstro-anchors-up-1/
THE BUFFALOS (Fra) - 2011 - THE BUFFALOS
I'm really pleased by this EP. If you're into mid-Clutch era, Suicidal Tendencies, try it!
"Entrancing like an opium vertigo, hard and dark like ebony but velvet
like a geisha's silken panties, THE BUFFALOS illegally distill music for
doomed pirates, and freedom addicted basterdz.
After years of roving around the world from Thailand's old opium dens
through the heated bordellos of East Africa to the desperate yet divine
landscape of Antarctica, The Duke, El Bavo, and The Breton decided to
transcribe into music what it is like to live like a pirate (according to
their own convenient definition).
This is how the infamous adventure of THE BUFFALOS started in 2008…
The infernal crew defended its first EP (In Hell We Dwell - 2009) on more
than fifty gigs, opening for legendary bands such as SUICIDAL TENDENCIES.
They are standing by to board and scar the world again with their new five
track canon ball: The Mahogany Secrecy.
Behold your outrageous kings, thou ravenous whores and thieves ! Hide your
virgins and be ready to rock for THE BUFFALOS are in town to burn it all
down !"
Web:
http://www.TheBuffalosCrew.com
Facebook:
http://www.facebook.com/thebuffalosband
Myspace:
http://www.myspace.com/thebuffalosband
The EP is for sell on CD
Baby: https://www.cdbaby.com/cd/thebuffalos12
and on Bigcartel:
http://www.thebuffalos.bigcartel.com/
"Spear the silk"
Heavy Glow - 2011 - Midnight Moan
Great Band. Awesome Album. Goes to my personal top of faves )
Retro-hard/proto-rock of the 70's at it's best. Gifted and talented.
http://www.facebook.com/heavyglowband
http://www.heavyglowmusic.com
http://xj793a.bandcamp.com/
(Free dl)
Dementia And Hope Trails
Genre: Drone, Ambient, Psychedelic
For Fans Of: Hammock, This Will Destroy You, Lights Out Asia, Eluvium, Emeralds
Country: United States
Link: Blog
http://violentthreads.blogspot.com
/ Facebook
https://www.facebook.com/pages/Dementia-And-Hope-Trails/119456261435450
Download Part 1
http://www.mediafire.com/?wavv3065s36648o
Download Part 2
http://www.mediafire.com/?zj4py36s8bb8j03
Brachiosauride - 2011 - Excavations
"Influenced by 50s Blues, 60s Psych, 70s Prog, 80s Doom, Thrash and Hardcore Punk, 90s Sludge, Noise, Stoner, Mathcore and Experimental acts, we play a fusion brand of Progressive Sludge that gives the listener a unique experience; with creating a sonic texture of each song's concept, both musically and vocally. This is our first release, a concept album called Excavations (read the whole conceptual storyline here) including 10 songs that run over 37 minutes of mega mind blowing riffage, we would like to offer this record freely thru the internet and as your blog has always been a great place for all the obscure underground acts in the past years we'd be grateful if you host it there"


http://www.mediafire.com/?5adv8b53bhccjcl
http://www.megaupload.com/?d=5ONSWLWB
https://rapidshare.com/files/3267655812/Brachiosauride_-_Excavations__2011_.zip
http://www.brachiosauride.com/
http://www.facebook.com/pages/Brachiosauride/244796088892757
http://www.myspace.com/brachiosauride
http://www.twitter.com/Brachiosauride
http://www.youtube.com/BrachiosaurideBand
http://www.last.fm/music/Brachiosauride
http://www.soundcloud.com/Brachiosauride
http://www.brachiosauride.bandcamp.com/
They Yearn For What They Fear (US) - 2011 - Demo
BIO:
"Around since 2005ish, They Yearn For What They Fear started as a wall-of-noise grind unit, and while they can definitely still tap into all the rage of speed, they've become incredibly dynamic in their sound and tone while never sacrificing heaviness or their own brand of apocalyptic psychedelia. They are hard at work crafting a sonic tome worthy of their name, as well as split releases of all varieties (and hopefully a re-release of their lone testament to their ultra-violent roots, The Art of Communication via Concentric in the near future)
"
akin to: earth, moloch, thou, bongzilla, electric wizard, and torche

http://www.myspace.com/theyyearn
http://www.facebook.com/pages/They-yearn-For-What-They-Fear
dl Demo
VOLCANOES (St.Louis, Missouri) - 2011 - Heavy Hands
We're a two piece that plays loud, aggressive, distorted, danceable rock music. We just self-recorded and released a full-length album called Heavy Hands, and we would really like you to listen to it.
http://www.facebook.com/HUGEVOLCANOES
http://hugevolcanoes.bandcamp.com/
The Moss (Portland, Oregon)
Great Psychedelic/Retro-hard tunes. Can't wait for the full album
Do not mix it up with the UK's Moss.
http://www.myspace.com/themosspdx
http://www.facebook.com/
experimental drone doom split from Hordes / Grey Earth
Interesting Recource with good free music on it.
http://hordeslansing.bandcamp.com/album/hordes-grey-earth-split
madlantisrecords.com
Few more good bands from Hungary
Urania - 2011 - Carphatian Woodoo
link1:
http://www.sendspace.com/file/awwvue
link2:
http://soundcloud.com/stonerisemail/sets/urania-carphatian-woodoo-2/
music & video:
http://www.facebook.com/pages/Uran /122865107812261?sk=app_182222305144028
Whorediesel
http://www.facebook.com/pages/Aiwass/103975369682403
http://soundcloud.com/stonerisemail/sets/whorediesel/
and Check out this resource
http://stonerise.ucoz.com/
with tons of good Hungarian vibes!!!